16 ft 5" Jungle Soft Play Enclosure
---
197" × 197" × 39"
(500cm × 500cm × 100cm)
---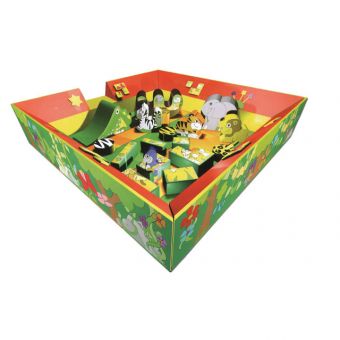 16 ft 5" Jungle Soft Play Enclosure
Product Description
16 ft 5" x 16 ft 5" x 39" high Jungle themed soft play enclosure
Consists of the following equipment.
16" thick x 39" high boundary walls with timber carcasses for strength & high density foam padding for safety. Enclosed in 600gram high quality PVC/vinyl covers with jungle themed artwork.
Fixing plates for fixing to floor if required.
16" x 16" x 39" entrance block which velcro to walls with commercial quality velcro.
13ft 9" x 13ft 9" x 2" safety floor padding to internal area.
Crocodile Slide
Jungle Puzzle Blocks
Large Elephant
Rocking Zebra
Lion
Tiger
Jungle Stepping Stones
Double Rocker
Parrot
Wall top activities for education and stimulation.
---
Can be manufactured with or without artwork
Other size areas can be manufactured if reqired. Please ask for details.
All our products are very robust and manufactured to the highest quality.
With high density foam inserts and non toxic high quality 600 gram PVC coated fabric (not from China). With internally sewn seamed covers and non toxic water based acrylic painted artwork. They are manufactured to last the test of time.
Write a review